The most convenient spare air cylinder tank that you refill, not the dive shop.
Pubdate:2021-12-29 15:55:37Writer:HotdiveVisited:3543
You wouldn't skydive without a spare parachute, so why would you scuba dive without a spare cylinder? The Hotdive T10 mini-tank standard kit is the answer for out-of-air scuba emergencies.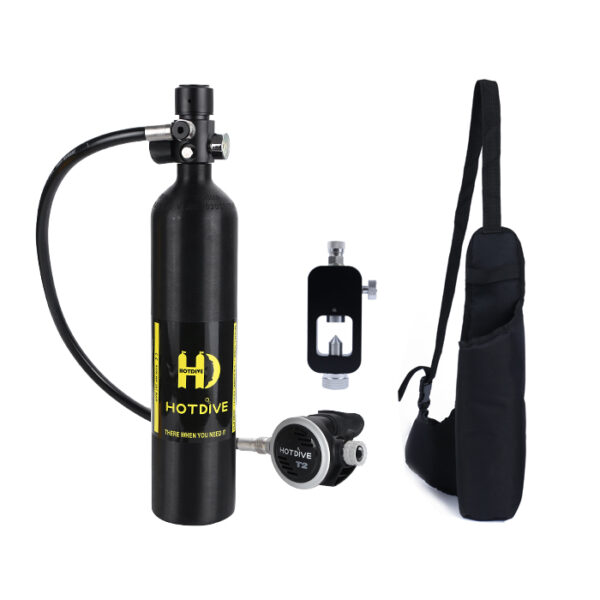 If you know a spare air is important for you, click the button to know more about it and the latest pricing plus any discounts that may apply on our shop.
This is one of the smallest portable air sources available and is refillable from your own scuba tank. The Spare Air emergency air supply gives peace of mind when there is no room for error.
Why use a Hotdive spare air source cylinder?
A spare air source should be a standard piece of scuba diving equipment for every safety-minded diver. Hotdive mini tank is the preferred choice for professional and sports divers, and for a very good reason; it saves lives. This has been proven to be faster than buddy breathing and easier than an octopus.
Even if you never need to use it, it's always there as your backup. Hotdive mini-tank cylinders will provide a limited number of breaths for an out-of-air emergency. These are suitable for relatively shallow dives without decompression.
About the Hotdive mini tank
HotDive T series is the latest generation of (HEED)Helicopter Emergency Egress Devices. It's a lightweight, self-contained breathing apparatus, which is designed to increase the survivability of military and commercial personnel in a short-term out-of-air emergency.
Provides the lifesaving air needed to escape from a falling aircraft or rolling vehicle in the water.
Suitable for all possible water emergencies around helicopters, fixed-wing aircraft, seaplanes, ships, and vehicles.
Protect personnel from breathing dangerous and deadly toxic gases as a result of fire or smoke.
*Note: Units are shipped empty
HEED also known as SEED (Supplemental Emergency Escape Device), STASS (Short Term Air Supply System), Spare air source (Fun Diving), Spare industrial air source (Protect personnel exposed to toxic smoke), Spare escape air source (includes a mask to help home users escape smoke and fire)
Use our Air Compressor Refill Adapter (coming on 2022) to refill from any breathing air compressor or T-01A SCUBA Tank Refill Adapter (sold separately) to refill from any full 3000 psi SCUBA Tank.